How it Works
Cold Storage Monitoring devices comprise of wireless environmental sensing nodes that send data to a wireless to Ethernet gateway; this secure gateway then communicates via the Internet to our secure redundant webservers. Choose between a traditional AC plug-in monitor or select one with our long lasting lithium batteries for true remote sensing. We'll let you know of hardware malfunctions, Internet failure or when to change batteries.
Cold Storage Monitoring can track your equipment in freezers and warehouse facilities across the globe using our intuitive, user-friendly software. There's no need for complicated software downloads- simply login using your standard Internet browser. Our alert system can quickly locate and identify malfunctioning devices to the exact address, building, and floor to direct you to where maintenance is required.
Click the following link and gain FREE access to a demo version of our user-friendly software. Use our location finder to identify equipment anywhere in the world!
Create a FREE guest account
Use our Location Tracker to locate multiple probes in geographically disparate locations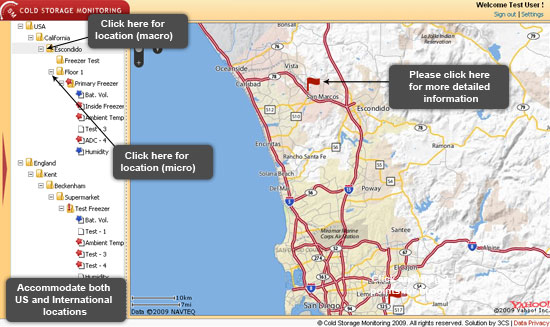 Cold Storage Monitoring's software allows you to track each environmental sensor in real time. Use our novel history tracker to determine the exact time of device failure, or to track user trends to establish timelines and product lifecycles.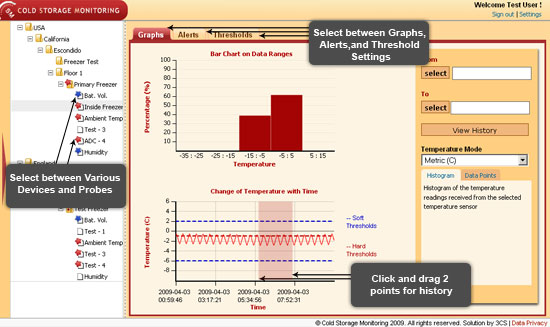 Home
Please click here for Technology information