Cold Storage Monitoring
Cold Storage Monitoring is focused on delivering cost-effective, easily implementable temperature monitoring services for cold storage facilities. Whether you're a "Mom and Pop" store, a local neighborhood supermarket or a meat-packaging distributor, Cold Storage Monitoring can ensure equipment integrity to prevent the loss of frozen goods and cold inventory. Use our Location Tracker for either 10 freezers in one store or 100,000 machines on three continents to pinpoint each malfunctioning device before your inventory is ruined and your workflow becomes impaired.
Cold Storage Monitoring is here to provide you an easy, customizable monitoring system that can be integrated within your existing production or distribution facilities. Contact us today and we'll assist you in all of your environmental monitoring needs.
Click on image for larger image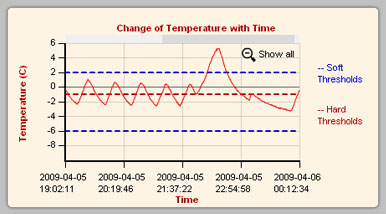 Who can benefit from Cold Storage Monitoring?